ACS Residential Aged Care Forum 2011
0 comments
ACS Residential Aged Care Forum 2011
Silvia Holcroft and Viki Zirogiannis recently attended the ACS Residential Aged Care Forum held in Sydney on the 10th of March. The Aged Care forum brought together facility managers, RN's, EN's and leisure and lifestyle staff from residential aged care facilities across NSW and the ACT. The forum facilitated the examination of current practice and how new ideas might be applied in the context of the conference theme, "managing and working on the frontline". Presentations covered the areas of: e-health, medicare locals, contemporary leadership and management, mental health, capacity assessment, leisure and lifestyle, advance care directives and clinical practice.
(These presentations are available to download in PDF format via the Aged and Community Services Association of NSW & ACT website - 2011 ACS Residential Aged Care Forum - Managing and Working on the Frontline)
QPS would like to thank its clients for visiting the QPS trade stand and taking the time to have a chat. The ACS Residential Aged Care Forum was the first conference attended by our office manager Viki, "it was a great opportunity to meet our clients face-to-face, I speak to them all the time over the phone - it's great to put faces to the names".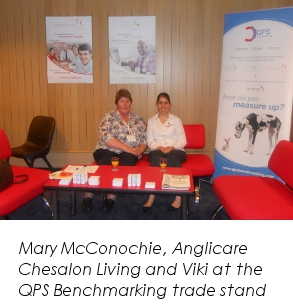 QPS will keep you posted about any upcoming conferences we will be attending via our "Latest News" section of the QPS website. We enjoy catching up face to face with our clients and can answer any questions you may have. So if you are attending a conference that we are exhibiting at we encourage you to come and visit our stand.