Problems with Medication Documentation?
0 comments
Problems with Medication Documentation? I.T. May Have the Solution for You
St Hedwig's Village is a 132 bed aged care facility in Western Sydney. It has 75 high care places, 42 low care places and a 15 place low care specific dementia unit.
Managing the process of issuing medications is a complex task, and achieving error free and consistent documentation has, in the past, presented many challenges and frustrations. A review of the benchmarking results for the QPS Medication Errors - Self Reported KPI clearly shows that the same challenges and frustrations are shared by many other aged care organisations. Whilst the system for getting staff to routinely recognise and report errors as they occur, or are discovered, is undoubtedly good practice, the ongoing process of reporting errors can be considered by some staff members to be onerous and time consuming. When it comes to documentation and record keeping, the cost benefit of converting to computer based systems must now be seriously considered in any review of efficiency and effectiveness.
St Hedwig's has been benchmarking with QPS since 2003. Over that time, management and staff have made a concerted effort to effectively and consistently report and record medication errors. The results show that consistent effort and education has periodically resulted in short to medium term improvements but from time to time spikes in the error rates continued to occur.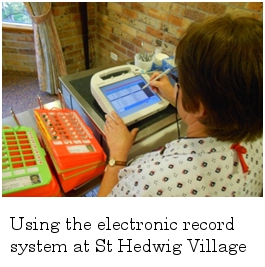 In 2010-2011 St Hedwig's introduced the iCare Clinical, Care & Medication Management Solution Software. This new system provided the organisation with the opportunity to manage the medication documentation process electronically using Panasonic Tough books. In essence, the program enables the facility to electronically track medication usage and the process of staff 'signing' for the medications when administered to the residents. Instead of the traditional paper based medication charts, staff members now use the Panasonic Tough Books that are the size of an A4 page for documentation purposes. As each medication is given it is noted on the Tough Book by staff using a special pen and at the end of the medication round the Tough Book is taken back to a docking station at the nurse's desk and the data is uploaded onto the residents' records. The only time that a paper record is needed is when the resident is on a particularly complex medication regime, for example if medication is required more than eight times each day.
Kathy Eberl is the CEO of St Hedwig's and explains "the timing for introducing this type of technology was right for us and most staff members were keen to try a new way of doing things". The facility recognised that the management of medications utilising a paper based system is associated with a number of problems namely:-
Illegibility of mediation orders
Omissions of signatures for medication administration
Requirements for re-writing medication charts
Time spent liaising with the supply pharmacy for ordering
Identification by management of medication errors e.g. missed medications/signatures
Identification by clinical staff of residents' requirements for PRN medication administration
Time spent dispensing medication for staff who are already stretched in providing good resident care.
The Panasonic Tough books are not bulky; they fit nicely onto the medication trolleys and do not clutter the trolleys in the same way as paper based charts. It is large enough however for staff to consider it user friendly. It is easy to read and staff members simply tick the right medication at the time the medication is dispensed. It shows a photograph of the resident, thereby helping to ensure that the right resident is receiving the correct medication. It has been well accepted by most staff and is another quality control mechanism for non-registered nursing staff in the low care unit dispensing medication. The automatic checks and balances have given the non-registered staff much more confidence in the medication process and the margin for both a dispensing and documentation error has been reduced.
The reports generated by the system have proven to be of great value. A report on "who is on what" can be generated at any time. When a resident is transferred to hospital a document specifying medications, dosages and allergies is instantaneously available.
Reports on usage and timeframes for PRN medication have enhanced quality review and it has been found that it is now much easier to encourage input from medical officers into the review process. Reviews of antibiotic usage are also much easier to undertake as are reviews of the usage of scheduled and psychotropic drugs. These reviews have resulted in an overall reduction in medications for residents and medication errors. This information has also been useful for ACFI validation purposes.
There is of course a cost associated with transferring to an automated system but after consideration of the advantages St. Hedwig's believes that the investment has been worth it.