The Benefits of Benchmarking for Stand Alone Community Inc Facilities
0 comments
The Benefits of Benchmarking for Stand Alone Community Inc Facilities
Cabanda Aged Care Inc is located in the small township of Rosewood a few hours drive west of Brisbane. It has 49 general beds and 16 specific dementia unit beds and is developing an ageing in place role in line with the changing needs of the local community.
Large multi facility organisations usually have financial and quality management experts within their own organisation to help manage the many new and complex challenges that face aged care providers. There are also a large number of single facilities, often Community Incorporated organisations where the one or two senior managers have to cover all areas of management and development. Cabanda Care Inc. falls into the latter type organisation.
"If QPS had not helped us to identify how far we had stepped outside of industry standards our future may have been short lived." Joyce Rieck, Chairman of the Board - Cabanda Aged
At the time of joining QPS Benchmarking, Cabanda Care Inc. was in the final stages of completing an ambitious capital works program to extend care options for the local community and it would be fair to say that both the Board and management had expended considerable energy in getting the project to completion.
The role of the facility and type of care being provided however was changing and cracks were starting to emerge in the financial strategic plan. As a result of these changes and the realisation that the care provided at Cabanda Care Inc was becoming increasingly complex, a decision was taken to join the QPS Benchmarking program. An attractive aspect of QPS Benchmarking service was that despite Cabanda being rural and nearly 1000 kilometres away from its office base, QPS offered the option of on-site education. This worked well for Cabanda as it provided the chance to get management, key clinical and safety staff, and the entire board together for what was a very informative and collaborative day. Even before the day was out the QPS consultant was able to provide a clearer picture on our key income (ACFI) and expenditure (Care Staff Work Hours) indicators, and to put it mildly, alarm bells began to ring.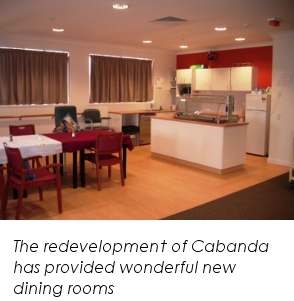 Not long after joining QPS Benchmarking, the Cabanda CEO went on extended leave but it was comforting to know that the Executive Board members could ring and discuss the benchmarking outcomes at any time with the QPS Principal Consultant. This level of service was not anticipated when we first joined the program, and said a lot about our consultant's understanding of, and commitment to us as a single entity client. Not only were we able to review our indicator outcomes but the QPS Consultant was able to provide more detailed profiling of similar Community Inc. facilities in other rural locations to help us better analyse our position in the aged care market place.
As the Board re-engineered the management structure for the organisation it used the benchmarking outcomes and advice provided by the QPS Principal Consultant to monitor the impact of strategic decisions to achieve a better balance between income and expenditure.
The outcomes are clear for all to see. Firstly, it was realised ACFI was not being optimised and after the initial reports alerted the Board to this problem, external advice was sought and resources were dedicated internally to achieve improved outcomes. The outcome was that we increased our average daily revenue from just $65 per day to $98 per day and have moved our incomes levels from "just low care" to the ageing in place level which is more consistent with our community and resident profile.
Average ACFI Income - Indicator 1.1.2

Secondly, it was realised that our service was staffed well above the ACFI income level and that a better balance between ACFI and care staff work hour expenditure was required. Without compromising care, Cabanda has steadily worked towards a more strategically desirable balance, without having to take major decisions that adversely impact on resident care. The reduction in care staff work hours has been planned carefully, to ensure alignment between resident care needs, acuity and ACFI subsidy levels.
Care Staff Work Hours - Indicator 1.6.1 - `showing steady alignment over a 12 month period'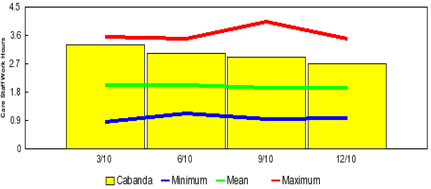 As a community incorporated organisation, Cabanda's goal is always to provide the best possible outcomes and care for the local community. It is the sole reason for the organisation's existence. It was therefore important to ensure that care processes remained on track whilst these important financial decisions were implemented. It has been of great comfort to the Board and staff that we have maintained good clinical outcomes and satisfaction levels during this period of change. The President of Cabanda Care Inc, Joyce Rieck explains, "We are now in a position to focus even more on these quality indicators now that the snapping of the financial crocodiles is not quite so close to our backside".